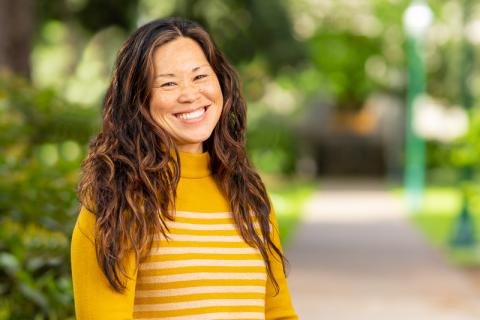 Assistant Director, Education and Prevention Outreach Director
Additional Roles: Senior Staff Psychologist, Gender Support Services Team
Pronouns: She/Hers
Education:
BA, cognitive science and psychology, Northwestern University (2000)
MS, counseling, University of Wisconsin, Madison (2005)
PhD, counseling psychology, University of Wisconsin, Madison (2011)
Professional Interests: My psychological orientation is influenced by the Interpersonal Process, humanism, multiculturalism, and feminism. I am interested in relationship and interpersonal issues, anxiety, family of origin, trauma recovery, identity development, and supervision. I work in multicultural counseling, with underrepresented students from diverse backgrounds (e.g., race and ethnicity, socioeconomic status, sexual orientation, gender, ability, campus climate issues, social justice, and advocacy). I specialize in working with first-year students transitioning to college, racial and ethnic minority students, and first-generation college students.
Theoretical Orientation and Therapy Approach: Much of my clinical and supervisory work is rooted in the belief that relationships are the foundation for learning, growth, and change. My conceptual view of clients and what contributes to their concerns is primarily viewed through a feminist, multicultural framework; I take into account an individual's background, social identities, and the contextual factors that have influenced their lives. Inherent to the person-centered approach, I am also deeply committed to the creation of a therapeutic alliance between the therapist and client—one that is rooted in genuineness, empathy, warmth, and acceptance. From an interpersonal process approach, I utilize myself as a means through our therapeutic relationship to facilitate a client's awareness in identifying their interpersonal patterns (e.g., negative cognitive schemas or maladaptive coping strategies). I also believe these recurring interpersonal themes underscore the significance of exploring the formative relationships that have shaped one's self-concept and thereby impact future relationships. As my clients and I co-create a healing relationship and reconstruct a new story and reality, I hope our work together will provide them with a greater sense of empowerment and self-efficacy in their relationships.
Supervision Approach and Model: Similar to my passion to develop the strengths and skills of my clients, I very much appreciate the reciprocal process of learning that occurs within the supervisory relationship. One of my primary goals is to establish a supervisory space of honesty, openness, and safety. With permission, we often begin our supervisory relationship by sharing our own backgrounds, experiences, and cultural identities that inform are work. I personally enjoy the opportunity to get to know supervisees on both a personal and professional level; we often begin supervision with a check-in that leads to building an agenda, which is driven by the needs of the supervisee and their overarching supervisory goals. While I have a strong desire to reduce the power differential inherent to any supervisory relationship from a feminist perspective, I also recognize the importance of meeting the supervisee where they are at from a developmental lens. In striving to create a strong supervisory relationship, I hope my tendency to be transparent with my process and expectations will help facilitate a supervisee's comfort to express their unique clinical needs and fears alongside their accomplishments during their internship year. I also try my best to strike a balance between challenging and supporting a supervisee within their clinical work, our supervisory dynamic, and their ever-evolving multicultural competence.