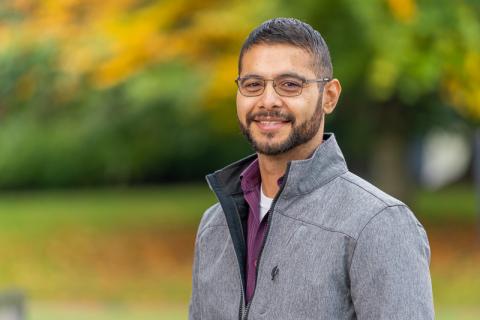 Assistant Director, Training Director
Additional Roles: Senior Staff Psychologist, Latinx and Undocumented Student Specialist
Pronouns: He/Him
Education:
BA, UC Davis (2012)
MS, University of Oregon (2015)
PhD, University of Oregon (2018)
Professional Interests: I'm drawn to the areas of clinical training and supervision, working with underrepresented and marginalized student groups, and experiential and relationally focused individual therapy. I have specialized training and a strong interest in working with Latinx and undocumented, DACAmented, and mixed-status students as well as racial and ethnic minority students. Additional areas of interest include trauma (e.g. interpersonal violence, community violence, and early childhood trauma), career development, men's issues, relationship concerns, family of origin issues, and LGBTQ+ allyship.
Theoretical Orientation and Therapy Approach: My therapeutic approach is experiential/psychodynamic with a multicultural and social justice lens. I believe effective counseling begins by establishing a strong therapeutic relationship built on trust, authenticity, and acceptance. I strive to provide a genuine therapeutic foundation with the people I work with by being mindful of their cultural backgrounds and identities as well as the contextual factors that have influenced their lives. From this foundation, I collaborate with clients by exploring their emotions in vivo to better understand their met and unmet needs in relationships. Building a deeper connection and acceptance of such emotions, I believe, leads to greater fulfillment with others and ourselves.
Supervision Approach and Model: I greatly enjoy providing training and supervision across different stages of training. I utilize an integrative approach to supervision with an emphasis on addressing power dynamics, personal and professional development, and multicultural and social justice issues. Like my therapy approach, I find that effective supervision requires a relationship based on authenticity, empathy, and trust. I strive toward empowering the people I work with both in our supervisory relationship and in the work they do with clients. I recognize that each therapist has unique strengths, growth areas, and lived experiences that influence their clinical work. My goal is to collaborate with them to help build on their strengths and growth areas as well as work with them to meet their goals, both as therapists and people.