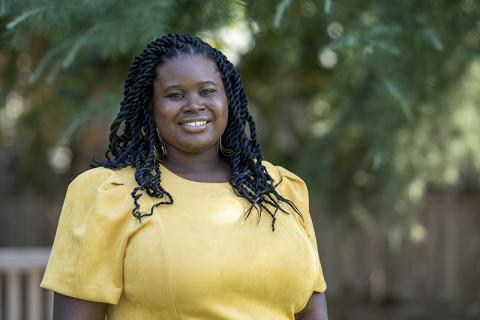 Senior Staff Psychologist, African American/Black Student Specialist
Pronouns: She/Hers
Education:
BA, psychology, minor in women studies, Winthrop University
MA, counseling psychology, Towson University
PhD, counseling psychology, University of Tennessee-Knoxville
Pre-doctoral Internship, Florida International University, Counseling Center
Postdoctoral Multicultural-Emphasis Fellowship, University of Kansas Medical Center, Counseling Services
Professional Interests: My primary clinical interests include trauma, discrimination-based stress, depression, family concerns, women's wellness, mindfulness, religion/spirituality concerns, and multicultural/Black psychology. I am a certified Sawubona healing circle trainer and facilitator. I am also trained in soulfulness mindfulness, a BIPOC (Black Indigenous People of Color) focused meditation under the scholarship of Dr. Shelly Harrell. As a scholar, I research the gendered racial microaggression experiences of Black girls. Given my training from a Scientist-Practitioner-Advocate model, I believe it is important to not only integrate multiculturally competent research, clinical practice, and social justice advocacy for my clients in the therapy room, but also advocate for social issues that impact clients outside the therapy room. I find justice and joy from my creation and collaboration of creating culturally centered wellness spaces and resources.
Theoretical Orientation and Therapy Approach: I take an integrative approach that often pulls from mindfulness-based and emotion-focused interventions within a multicultural-feminist framework. I believe it is important to acknowledge, explore, and understand our social identities to respond to both acute and long-term presenting concerns in therapy. I approach therapy from a collaborative, strength-based, and empowering space to help my clients work towards their therapeutic goals. As I study deeper into liberated ways of healing, specifically, Black psychology, I infuse these philosophies and interventions in my specialty work.
Supervision Approach and Model: My supervision style uses a developmental (discriminate) model that is grounded in Black-Feminist Thought/multicultural feminist theory. I approach the supervisory relationship from an empowerment framework with the agenda of dismantling of systemic barriers to mental health and overall well-being. I practice under the philosophy of jegnaship that applies African-centered approaches to teaching and imparting knowledge to the future of our professional field. I take a loving and gentle approach that challenges/empowers my supervisees to be the professional they envision. My approach is wholistic in attention to care and attention to the personal, professional, and advocate parts of the individual. My approach is joy infused as I believe it is important to counter our experiences with liberation and joy.