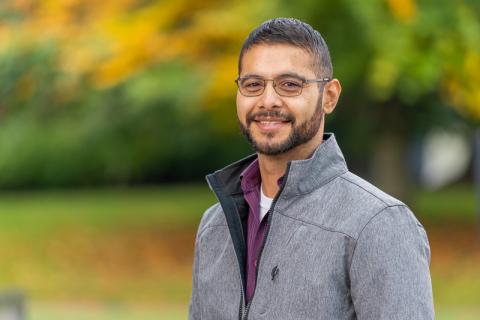 Senior Staff Psychologist
Additional Roles: Latinx and Undocumented Student Specialist, Practicum Coordinator
Pronouns: He/Him
Alma Mater: University of Oregon (2018)
Professional Interests: My therapeutic approach is experiential/psychodynamic with multicultural and social justice lens. I also utilize interventions from Interpersonal Process Therapy, Mindfulness-Based Cognitive Behavioral Therapy, and Family Systems within my clinical work. I enjoy working with Latinx and undocumented/DACA/Tuition Equity/mixed-status students as well as students from other underrepresented and marginalized communities. I am especially interested in men's issues, trauma, career development, relationship concerns, family of origin issues, and LGBTQ allyship. Professionally, I am drawn to multicultural/social justice training and supervision.
Personal Interests: I'm a big fan of movies/TV shows, music, and audiobooks. In my spare time, I like to make glass artwork (i.e. stained glass, fusion, glass blowing) and dancing!
UO Love: Being indoors while it rains.