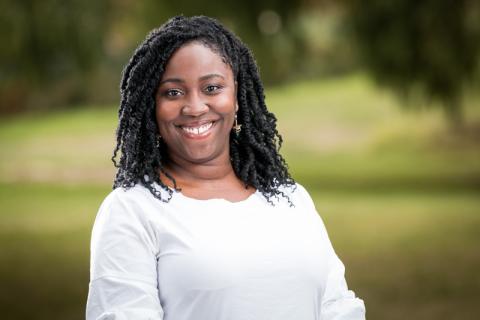 Associate Director/Clinical Director
Additional Roles: African American and Black Student Specialist, Senior Staff Psychologist
Pronouns: She/Hers
Education:
BSc, University of West Georgia
MEd, Auburn University
PhD, University of Tennessee
Doctoral internship in health service psychology, Emory University
Professional Interests: I love what I do! Having clinical specialties in trauma (e.g. interpersonal violence, abuse, PTSD, community violence) and socio-cultural identity/multicultural concerns (e.g. family of origin issues, race and ethnicity, gender, sexual/romantic orientation, ability status, nationality concerns) I enjoy working with a variety of students in multiple contexts. I continue to feel honored to bear witness to the resilience of human beings.
Theoretical Orientation and Therapy Approach: My therapeutic approach is informed by client–centered, interpersonal process, and feminist-multicultural perspectives. I strive to communicate unconditional positive regard, empathy, and genuineness, believing that the therapeutic relationship and trust are vital for change to occur. I view clients as experts on their own experience and I attend closely to each client's social context and experiences with power, privilege, and oppression, which impact their well-being and presenting concerns. With specialized training in CBT, EMDR, CPT, feminist multicultural therapy and Interpersonal Process Therapy; I use a variety of interventions, tailored to student's specific needs.
Supervision Approach and Model: My theory of supervision is a combination of Feminist Theory and Developmental theory within an over-arching multicultural lens. With regard to feminist theory, I view the supervisee as empowered, bringing into supervision their own strengths, life experiences and skills. I acknowledge the inherent power differential that can occur between supervisor and supervisee and strive to create an environment where supervisee feels comfortable and supported in sharing their needs. With regard to developmental perspective, I strive to meet the supervisee where they are, with supervision ranging from a teaching role to consultation role and any areas in between. I view us as multi-cultural beings and as such am mindful of how our cultural contexts may impact each other and clients. I aim for the supervision experience to be growthful, fun and always supportive!