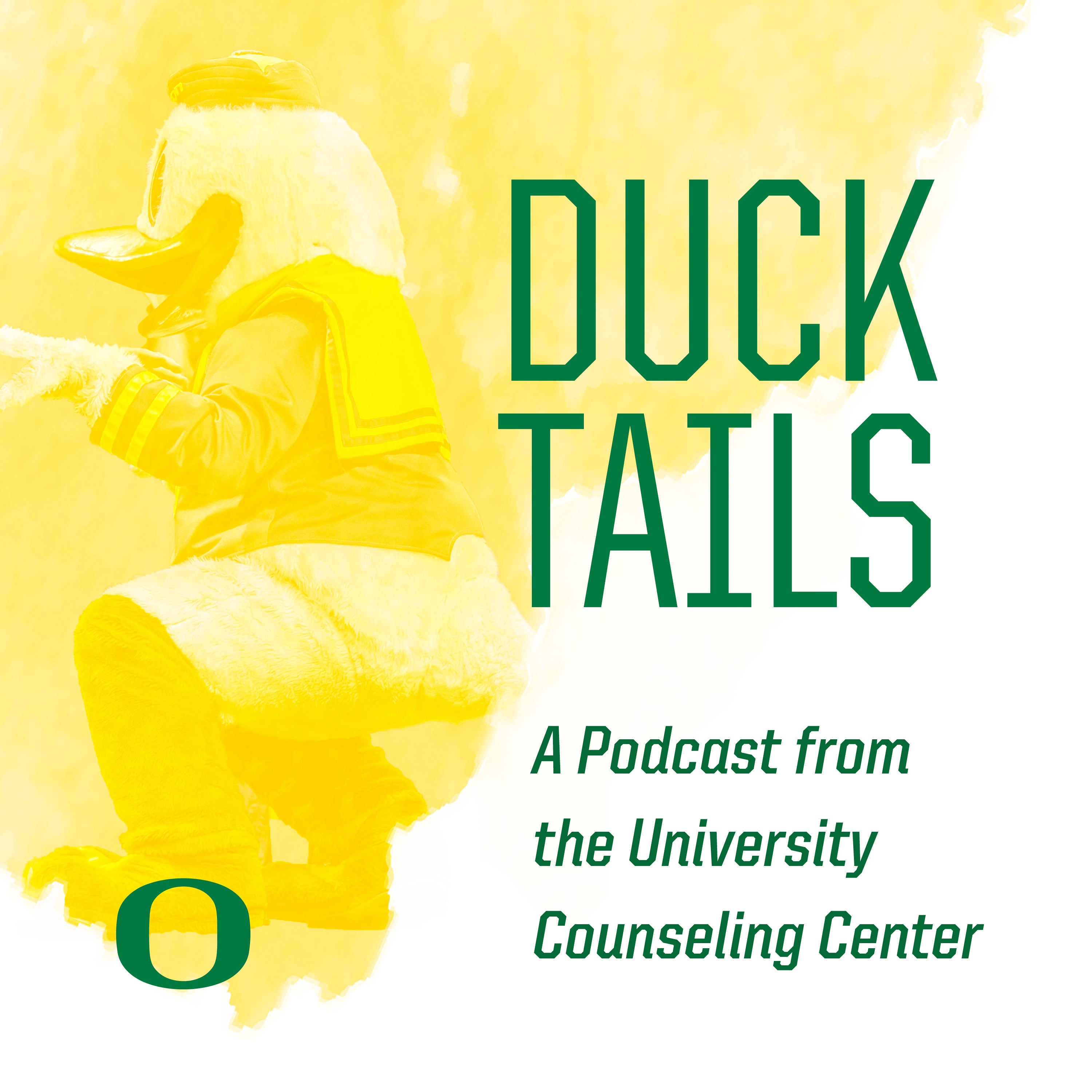 Duck Tails was created by the University Counseling Center Outreach Team to provide students a new way to engage with health and wellness during a time of increasing uncertainty and stress. Topics will vary each week and feature a variety of guests from around campus with real-world experience on the matters they discuss. Hosted and edited by UCC Outreach GE, Bryan Rojas-Arauz, each week will attend to several wellness topics and factors that affect mental health, as well as potential coping strategies and helpful resources. Bryan weaves a narrative with guests that ultimately leads to one central focus: we are all resilient. We all have sources of strength we've used to work through difficult times in the past, and we all can tap into those sources now. Tune in on Spotify, Apple Podcasts or wherever you get your podcasts to listen.
May 26, 2020
Episode 03: ADHD: Facts, Myths, and Superpowers.
In this episode, Bryan explores the world of ADHD with Doctorate candidate in counseling Psychology and an ongoing support counselor at the Accessible Education Center or AEC, Kelsey Kuperman. Kelsey shares her passion for all things ADHD and helps us challenge misconceptions while highlighting the not so often talked about ADHD strengths and hidden superpowers. Resources:
Accessible Education Center - aec.uoregon.edu
HEDCO LD and ADHD Assessment Clinic - https://hedcoclinic.uoregon.edu/services/learning-disability-ld-attention-deficit-hyperactivity-disorder-adhd
4 Weeks to an Organized Life With ADHD – by Jeffrey Freed, Joan Shapiro
The Adult ADHD Toolkit – J. Russell Ramsay & Anthony L. Rostain
---
April 28, 2020
Episode 02: What to Expect When Using a Crisis Line
Trigger Warning: this episode talks about suicidality. In this episode, Bryan explores the world of crisis centers guided by Francis Pastorelle, an assistant director in Housing, and a phone and text crisis counselor volunteer. Francis tells tails of his eight years of experience and outlines exactly what you can expect from a call or text chat. The main outcome is to be supported and connected to resources. Francis dispels myths and tells truths about these essential services. 
National Suicide Prevention Hotline: 1-800-273-8255
Crisis Text Line: Text 'START' to 741-741
---
April 27, 2020
Episode 01: How to Get Good Sleep
Are you getting enough sleep? How much sleep is enough sleep? In this episode, Bryan delves into these questions with UCC staff member Kyra Ortega-Schwartz. Strategies for maintaining sleep hygiene & for some high quality zzz's will also be discussed. We also hear a little bit about Kyra's out of this world experience in researching sleep physiology.
---
MEET YOUR HOST
Bryan Rojas-Arauz
Education and Prevention Outreach GE
Bryan Rojas-Arauz is an Education and Prevention Outreach GE. He is a self-identified DREAMer, feminist, dancer, poet, hip-hop educator, and scholar-activist. He enjoys working with historically marginalized students and is earning his PhD in Counseling Psychology with a Specialization in Spanish Language Psychological Services and Research. He is currently working with Latinx and undocumented youth in an after-school program, as well as an interdisciplinary transborder project, Intersectional Justice in Guatemala, helping immigrant women escaping gender violence and seeking asylum in the United States.